Ski Skate Week Break: Science Fun Camp


Feb. 20 - Feb. 24, 9 a.m. - 1 p.m.


If building a rocket, learning about circuits or discovering chemistry in your kitchen sound like activities your child would enjoy, Science Fun Camp would be the perfect fit!


KidZone Museum was picked by www.TahoesBest.com for top things to do with kids in Lake Tahoe!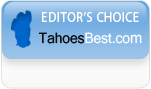 Thank you to our Visionary Circle Leaders.
FREE Daddy & Me Night
Feb. 24, 5 p.m. - 7 p.m.


Free Night at the KidZone Museum for dads, uncles, grandpas, teen brothers and all children. New Fairy Tale Exhibit will be ready for play. Free dinner and healthy snacks. Raffles, arts and crafts and Museum fun!