Special Holiday Hours
Check out our special extended holiday hours

Winter extended hours are in effect
Tuesday - Friday: 10 a.m. to 5 p.m.
Saturday & Sunday: 10 a.m. to 1:30 p.m.
Check out STEAM Exploration Saturdays
Date: Saturdays, starts November 28
Time: 10 a.m. to 1 p.m.
Ages: 4-7 years old
Location: KidZone Museum

STEAM is Science, Technology, Engineering, the Arts and Mathematics.


KidZone Museum was picked by www.TahoesBest.com for top things to do with kids in Lake Tahoe!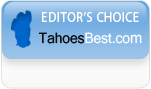 Celebrate birthdays at the KidZone Museum!
Saturdays & Sundays
2-4 p.m. or 4:30-6:30 p.m.


Volunteer at the Museum
KidZone Museum was founded in 1992 by a group of families who volunteered to open, close, clean and raise funds for the museum. Responding to the needs of the Museum over the years, the Volunteer Organization has grown to 8 staff and 40 regular volunteers who assist us with computers, maintenance, cleaning, programs and events. Want to share your skills with the museum and become a volunteer? Email Mayra. The Museum is a non-profit children's museum. All donations are tax deductible, and volunteers are critical to establishing innovative learning for children.