Spring Break Camps for Girls


Ages 7-11: April 10-14, 10 a.m. - 1 p.m.
Ages 4-7: April 10-14, 1 p.m. - 4 p.m.

Scholarships available call the museum.

KidZone Museum was picked by www.TahoesBest.com for top things to do with kids in Lake Tahoe!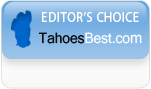 Thank you to our Visionary Circle Leaders.
Join us at our Egg Dying Workshop!
Saturday, April 8th, 11 a.m.